We work to connect stakeholders in the Industrial Hemp Revolution. For a greener, sustainable world.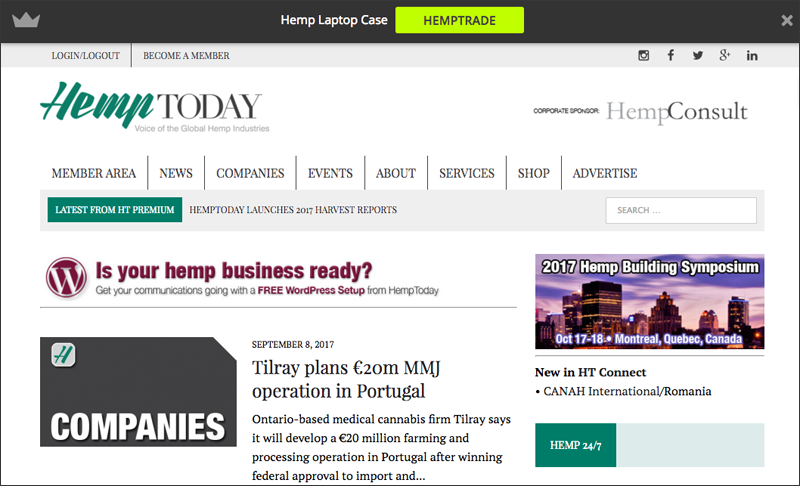 Become a member of HempToday®, the world's leading source for information and networking in the fast-growing industrial hemp industry. We are advocates for the industrial hemp industry through the HempToday® family of information, communications and educational initiatives, which help hemp stakeholders all over the world connect with each other and work together toward the common goal of a vibrant, well-functioning hemp industry – and all of the environmental promise it holds. Our network stretches from Europe to North America, Asia and Africa.
About HempToday®
Keep up with the hemp revolution through hard-hitting original content generated by HempToday® journalists from a reliable global network of industry sources.
Premium Content: Get news, analysis, and information on policy and politics, the latest research and knowhow; the companies and, most importantly, the people — the scientists, entrepreneurs and innovators who are leading the hemp revolution.
HempToday® Connect: A constantly expanding business directory of qualified hemp companies the world over, and a valuable industry tool.
Hemp Harvest Reports: Anecdotal accounts of hemp harvesting experiences that help us spread knowhow, insight into the technology and equipment being used to farm hemp, and the many products that can be made from the plant's component parts.
Hemp2020 Investment Summit: An annual gathering of global hemp industry leaders, for current and future industry stakeholders to get up close and personal to survey the vast opportunities in hemp food and health products, hemp construction, textiles and fashion; hemp farming and processing and specialized field and processing equipment – worldwide.
Communications services: We offer a wide range of PR, marketing, design and other communications services specifically for the hemp industry. HempToday® is headquartered at HempToday® Center where we host a series of thought-leader mini-summits that bring together hemp industry leaders and experts from all over the world.
---
HempToday® and all of our other websites were designed by MPR Studio, a creative firm offering truly personalized WordPress web development services.